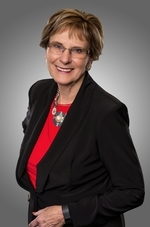 Scope of Service:
Barbara Gibson, Associate Broker with Royal LePage Solutions Commercial has 30 years of proven experience in the Commercial Property Leasing and Sales Industry. She has worked with Landlords, Developers, Tenants and Owners and is highly respected by all for her professionalism, integrity and market knowledge.

Background and Experience:
Prior to moving into the Industrial Market 10 years ago, Barbara specialized in retail for 10 years representing both Landlords and Tenants. Before joining Royal LePage she spent 6 years with NAI Commercial as Broker of Record and Associate Broker with CBRE for 7 years. She specialized in Retail and Industrial Leasing and Sales. Barbara has a strong accounting background and spent 10 years with Nu-West Development Corporation in a number of capacities, the last of which was the Controller for Canadian Operations. Her broad experience has enhanced her dealings with a wide range of clients in all facets of Commercial Real Estate and Management.

Significant Transactions:
In the last 10 years she has completed over 350 transactions valued at over $92 Million dollars. Single point of contact for the disposal of 30 properties across Canada for Superior Propane.